Marco Lucchinelli's success in the Battle of the Twins at Laguna Seca in 1986 prompted Ducati to name next series of limited edition 750 F1 the Laguna Seca. Laguna Seca also came with a Marco Lucchinelli decal autograph on the gas tank and is the second of (3) limited edition F1's.

Except for slightly different cylinder heads, the engine of the Laguna Seca was identical to that of the Montjuich. There was a steel, rather than aluminum, inner clutch drum, and small changes to the clutch actuation system. There was a new clutch slave cylinder and bearing, although the vented clutch cover was retained. In an effort to reduce noise levels, the Laguna Seca featured a new muffler, with larger canister and riveted aluminum cover. U.S. versions received a different muffler again; a Conti similar to that of the 1986 750 F1. With Cagiva breathing down their neck less costly wheels were used from the Paso model, replacing the more expensive Montjuich two piece wheels.

Of the (296) manufactured, it is written (50) came to the USA.
Attachments:
File comment: Laguna Seca in NYC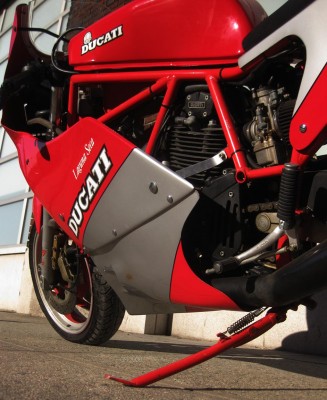 L IMG_1648.jpg [ 206.33 KiB | Viewed 1881 times ]
File comment: Laguna Seca in NYC
L IMG_1636.jpg [ 153.15 KiB | Viewed 1881 times ]
File comment: Laguna Seca in NYC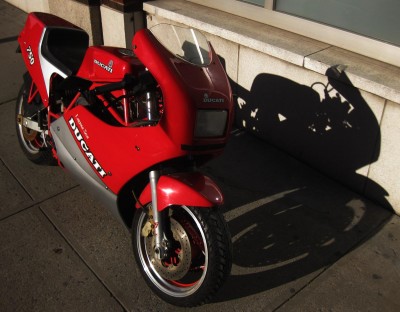 L IMG_1628.jpg [ 204.12 KiB | Viewed 1881 times ]